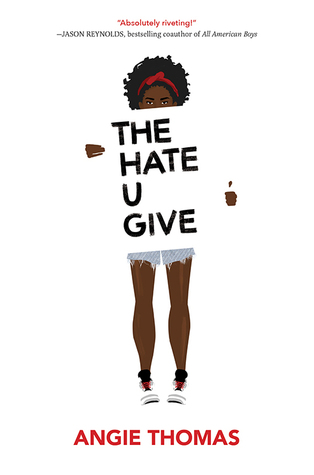 Title: The Hate U Give
Author: Angie Thomas
Release Date: February 28, 2017
Format: E-ARC
Publisher: Balzer + Bray
Number of Pages: 464
Date Read: April 6, 2017
Genre: Young Adult, Contemporary
Rating: ★★★★☆
---
Synopsis
Sixteen-year-old Starr Carter moves between two worlds: the poor neighborhood where she lives and the fancy suburban prep school she attends. The uneasy balance between these worlds is shattered when Starr witnesses the fatal shooting of her childhood best friend Khalil at the hands of a police officer. Khalil was unarmed.
Soon afterward, his death is a national headline. Some are calling him a thug, maybe even a drug dealer and a gangbanger. Protesters are taking to the streets in Khalil's name. Some cops and the local drug lord try to intimidate Starr and her family. What everyone wants to know is: what really went down that night? And the only person alive who can answer that is Starr.
But what Starr does or does not say could upend her community. It could also endanger her life.
---
Review
I would like to thank JM from Book Freak Revelations for including me in this blog tour and also to HarperCollins International for providing the arc that we've read.
This does not affect my opinion of the book or the content of my review.
The Hate U Give was a fantastic book. It tackles some of the very serious issues that people experience today.
Before I say the things that I loved about this book, let me point out the only thing I didn't like from this book is on Angie's writing style. She started The Hate U Give with Starr, our main character who's living between two worlds. Starr and her family lives in mostly black neighborhood and the mostly white upper-class private school that she attends. I had a problem when Angie Thomas includes some characters as the story progress but not really introducing them well enough that's why when there are new characters, I got confused easily. Sometimes when there's a character in a chapter and I'm remembering if that specific character is already introduced from previous chapters or he/she is a new one.
Now let's talk about how great this book was.
I love how this book was inspired from the movement, Black Lives Matter. When I read the synopsis of The Hate U Give, I knew I had to read it soon. I didn't had the chance to get an ARC for myself but when JM from Book Freak Revelations asked me if I can join the blog tour for this book, I accepted the invitation. I was psyched!
This book tackles racism, oppression, discrimination. We don't really see a young adult book that tackles such social issues that often. The things that happened in the book are so realistic and even though I'm not black, and I'm not really experiencing some serious things like racism or oppression (at least in my case), it's still so important for me to read this kind of book because it opened my eyes to a lot of things. Well yes, I know that racism and oppression is a very serious problem right now, it still great to read a book written by a person who really know what's happening to these people.
I love the family relationship in this book. I love the dynamic between Starr and her family and even though The Hate U Give is a book that tackles a very serious social problems, Angie still managed to include some funny scenes throughout the book. I liked that. I also love the brother-sister relationship between Seven and Starr. They are always there for one another.
Overall, the only problem for me that I encountered while reading this book is the writing style – how the characters were introduced. But other than that, it is still a GREAT and IMPORTANT book. The Hate U Give is for everybody. It's a book that will open your eyes and will teach you a lot of things. Everybody should read this book right now!
---
Rating
★★★★☆
FOUR  O U T   O F   F I V E   S T A R S
---
Favorite Quotes
"Sometimes you can do everything right and things will still go wrong. The key is to never stop doing right."
"At an early age I learned that people make mistakes, and you have to decide if their mistakes are bigger than your love for them."
"That's the problem. We let people say stuff, and they say it so much that it becomes okay to them and normal for us. What's the point of having a voice if you're gonna be silent in those moments you shouldn't be?"
"Brave doesn't mean you're not scared. It means you go on even though you're scared."
---
Also, don't forget to check out the reviews of the other participants for this blog tour:
JM of The Book Freak Revelations

Allie of A Literary Wanderer

Jayvee of Writer for Misfits

Josh of High Lit Books

Hazel of Stay Bookish

Inah of The Bibliophile Confessions

Jasmine of Jasmine Pearl Reads

Nicka of Read by Nicka
---
About The Author
Angie Thomas was born, raised, and still resides in Jackson, Mississippi as indicated by her accent. She is a former teen rapper whose greatest accomplishment was an article about her in Right-On Magazine with a picture included. She holds a BFA in Creative Writing from Belhaven University and an unofficial degree in Hip Hop. She can also still rap if needed. She is an inaugural winner of the Walter Dean Meyers Grant 2015, awarded by We Need Diverse Books. Her debut novel, The Hate U Give, was acquired by Balzer + Bray/HarperCollins in a 13-house auction and will be published in spring 2017. Film rights have been optioned by Fox 2000 with George Tillman attached to direct and Hunger Games actress Amandla Stenberg set to star.
---
Find me on the internet:
INSTAGRAM | TWITTER | GOODREADS | TUMBLR | FACEBOOK | BLOGLOVIN'