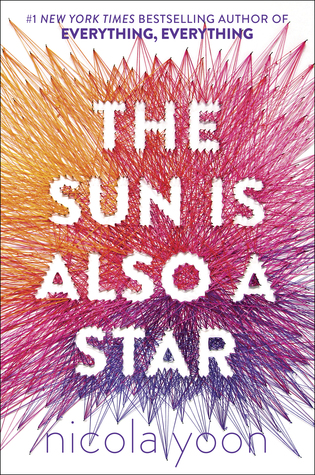 Author: Nicola Yoon
Release Date:

November 1, 2016
Publisher: Delacorte Press
Number of Pages: 344 pages
Date Read: August 23, 2016
Price: $19.95
Genre: Young Adult, Fiction, Romance, Contemporary, Realistic Fiction
Rating: ★★★★★
---
Synopsis
Natasha: I'm a girl who believes in science and facts. Not fate. Not destiny. Or dreams that will never come true. I'm definitely not the kind of girl who meets a cute boy on a crowded New York City street and falls in love with him. Not when my family is twelve hours away from being deported to Jamaica. Falling in love with him won't be my story.
Daniel: I've always been the good son, the good student, living up to my parents' high expectations. Never the poet. Or the dreamer. But when I see her, I forget about all that. Something about Natasha makes me think that fate has something much more extraordinary in store—for both of us.
The Universe: Every moment in our lives has brought us to this single moment. A million futures lie before us. Which one will come true?
---
Review
*I would like to thank JM from Book Freak Revelations for including me in this blog tour and also to Penguin Random House International for providing the arc that we've read.
This does not affect my opinion of the book or the content of my review.*
At first, I was hesitant of joining this blog tour because (1) I've never experience joining a blog tour before, (2) I haven't read Nicola Yoon's other book which is Everything, Everything, and (3) It's a contemporary book. If you know me really well, I read contemporary novels but not as much as Dystopian or Sci-Fi. But I'm glad that I joined this tour because I really enjoyed & loved The Sun Is Also A Star. The main characters, Natasha and Daniel, are very well written and of course the story itself.
This book took place over the course of one day and I really liked that. Natasha and Daniel meet that day, and Natasha trying to ignore Daniel at first but then she realizes that she's interested to him. I love how the story is set over one day and the romance between both main characters doesn't feel like an insta-love (which is weird I know!). I should feel that this is an insta-love because it only happened in just one day and it should be cheesy, but guess what? I DIDN'T. Nicola Yoon's writing style is so great that the romance between her two characters feels genuine. Natasha and Daniel are so good (and cute!) together.
Another thing that I liked about this book is the diversity. Natasha is Jamaican while Daniel is Korean. Both of their families are immigrants and they are living in the United States. If you know Nicola Yoon, you are aware that this novel was inspired by her life which is the other thing that I love about this book.
I also liked that we get to know the perspective of the minor and side characters throughout the book. I've never read a book with this kind of format, and I think this is a very great idea (Nicola is a genius writer/author!).
The message that this book want to convey is that everything happens for a reason. Nothing happens by chance or by means of good luck. If something is destined to happen to each of us, either good or bad, it will happen. Sometimes these events will make us laugh, make us feel satisfied or make us feel good, and sometimes these events will make us sad, hopeless, or not satisfied. But if something bad happened to you, and you know that everything happens for a reason, don't let that bad thing ruin you as a person but make it as your inspiration to do better in life and be strong.
I would like to thank Nicola Yoon for creating this novel that I really love. I think that this book is the best contemporary that I've read this year or even one of the best contemporaries that I've ever read in my life. I recommend this book not just to people who loves contemporary books, but also for people who wants to read a contemporary even though they feel that this kind of book is not their cup of tea, because believe me, YOU WILL LOVE IT!
---
Bookish Photos
---
Rating
| | |
| --- | --- |
| Characters |   |
| Plot |   |
| Writing Style |   |
| Pacing |   |
| Ending |   |
| TOTAL | 5/5 Stars |
---
Favorite Quotes
"I didn't know you this morning, and now I don't remember not knowing you."

"It's not up to you to help other people fit you into a box."

"We're kindling amid lightning strikes, a lit match and dry wood, fire danger signs and a forest waiting to be burned."
Also, don't forget to check out the reviews of the other participants for this blog tour:
JM's review (From Book Freak Revelations)
Jasmine's review (From Jasmine Pearl Reads)
Mark's review (From Bong Bong Books)
Jayvee's review (From Writer for Misfits)
Shelea's review (From That Bookshelf Bitch)
Inah's review (From The Bibliophile Confessions)
Nicka's review (From Read by Nicka)
Beatrice's review (From Confessions of a Pinay Bookaholic)
Allie's review (From A Literary Wanderer)
---
About The Author
---
International Giveaway
Do you want to win your own ARC of The Sun Is Also A Star + a gorgeous art print? If so, you can join the giveaway by clicking – The Sun Is Also A Star Giveaway. It's open for all (INTERNATIONAL!!)
---
Find me on the internet:
INSTAGRAM | TWITTER | GOODREADS | TUMBLR | FACEBOOK | BLOGLOVIN'