Hello everyone!! It's been a while since my last post and I'm so excited to be back.
Today, I will show you guys my latest book haul. This haul contains one (1) hardcover book + one (1) paperback + 7 Advance Reader Copies (ARCs) and some bookish swags (two (2) tote bags + a ton of bookmarks!!)
So last June 17, 2016 I received a mail and I already know that it was from one of my great friends in the book community, Steph from Doodle's Book Reviews. Steph attended the BookExpo America 2016 and she got some ARCs + swags and she asked me if I want some of the things she got from BEA and I was like "HOLY YES". I mean one of my dreams is to attend BEA and other bookish events in the United States because it's just glorious (and of course you can acquire some advance reader copies + you get to meet so many amazing authors!!).
LET'S START WITH THE BOOK HAUL, SHALL WE?
I received 7 Advance Reader Copies (ARCs) and a hardbound book + paperback. This includes:
The Rose Society (Hardbound Signed) by Marie Lu
Shadow House by Dan Poblocki (arc)
The Call by Peadar O'guillin (arc)
Our Chemical Hearts by Krystal Sutherland (arc)
The Hawkweed Prophecy by Irena Brignull (arc)
Iron Man The Gauntlet by Eoin Colfer (arc)
The Romantics by Leah Konen (arc)
Red Abbey Chronicles: Maresi by Maria Turtschaninoff (arc)
Bookishly Ever After by Isabel Bandeira (paperback signed)
Here are the

synopsis

for the ARCs that I've got:
Shadow House by Dan Poblocki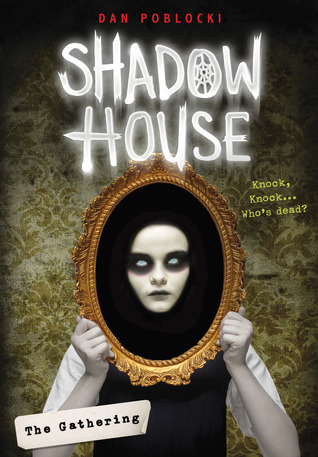 You don't just read this ghost story. You step into it. Some houses are more than just haunted… they're hungry.
Dash, Dylan, Poppy, Marcus, and Azumi don't know this at first. They each think they've been summoned to Shadow House for innocent reasons. But there's nothing innocent about Shadow House.
Something within its walls is wickedly wrong.  Nothing — and nobody — can be trusted. Hallways move. Doors vanish. Ghosts appear. Children disappear.
And the way out?
That's disappeared, too…
Enter Shadow House… if you dare.
Don't just read about Shadow House — explore its haunted depths with the free app!
2. The Call by Peadar O'guillin
The Hunger Games meets horror in this unforgettable thriller where only one thing is certain . . . you will be Called.
Thousands of years ago, humans banished the Sidhe fairy race to another dimension. The beautiful, terrible Sidhe have stewed in a land of horrors ever since, plotting their revenge . . . and now their day has come.
Fourteen-year-old Nessa lives in a world where every teen will be "Called." It could come in the middle of the day, it could come deep in the night. But one instant she will be here, and the next she will wake up naked and alone in the Sidhe land. She will be spotted, hunted down, and brutally murdered. And she will be sent back in pieces by the Sidhe to the human world . . . unless she joins the rare few who survive for twenty-four hours and escape unscathed.
Nessa trains with her friends at an academy designed to maximize her chances at survival. But as the days tick by and her classmates go one by one, the threat of her Call lurks ever closer . . . and with it the threat of an even more insidious danger closer to home.
3. Our Chemical Hearts by Krystal Sutherland
Henry Page has never been in love. He fancies himself a hopeless romantic, but the slo-mo, heart palpitating, can't-eat-can't-sleep kind of love that he's been hoping for just hasn't been in the cards for him – at least not yet. Instead, he's been happy to focus on his grades, on getting into a semi-decent college and finally becoming editor of his school newspaper. Then Grace Town walks into his first period class on the third Tuesday of senior year and he knows everything's about to change.
Grace isn't who Henry pictured as his dream girl; she walks with a cane, wears oversized boys' clothes, and rarely seems to shower. But when Grace and Henry are both chosen to edit the school paper, he quickly finds himself falling for her. It's obvious there's something broken about Grace, but it seems to make her even more beautiful to Henry, and he wants nothing more than to help her put the pieces back together again. And yet, this isn't your average story of boy meets girl.
4. The Hawkweed Prophecy by Irena Brignull
The babies were born as the clock struck twelve. A bat fell from the air mid-flight. A silver salmon floated dead to the surface of the river. Snails withered in their shells, moths turned to dust on the night breeze and an owl ate its young. The spell had been cast.
Poppy Hooper has managed to deceive her father into believing that there is nothing mysterious or unnatural about her. He ignores the cats that find her wherever she goes, the spiders that weave beautiful lacy patterns for her, even her eyes – one blue, one green with an extra black dot orbiting the pupil.
Ember Hawkweed is a pitiful excuse for a witch. When the other girls in her coven brew vile potions, Ember makes soap and perfume. Fair and pretty, Ember is more like a chaff than a witch. One of the Hawkweeds will be queen of the witches – but everyone knows it won't be Ember.
When the two girls meet, Poppy discovers her powers, and finds out the truth. Bound by their unlikely friendship and the boy they both love, the girls try and find their place in the world. But the time of the prophecy draws nearer – and the witches won't give up the throne without a fight.
5. Iron Man The Gauntlet by Eoin Colfer 
                                                                               Tony Stark is known throughout the world as many things:billionaire, inventor, Avenger. But mainly for being the Invincible Iron Man.
Just when Tony is about to add his pizzazz to aninternational eco-summit in Ireland, someone close to him forces him toquestion his role in making the world a more dangerous place with his high-techweaponry. But Stark doesn't have much time to reflect before an old enemypresents him with an even greater challenge: the assassination of all theeco-ministers, and Iron Man himself. Just how invincible Iron Man is when he isstripped of everything remains to be seen in this breathless adventure by thebestselling author of Artemis Fowl.
6. The Romantics by Leah Konen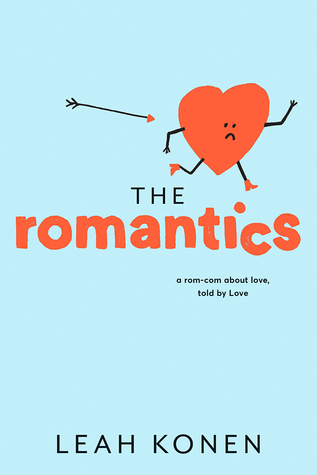 Perfect for fans of Lauren Myracle and Rainbow Rowell, The Romantics will charm readers of all ages. Gael Brennan is about to have his heart broken when his first big relationship crumbles on the heels of his parents' painful separation. Love intervenes with the intention of setting things right—but she doesn't anticipate the intrusion of her dreaded nemesis: the Rebound. Love's plans for Gael are sidetracked by Cara, Gael's hot-sauce-wielding "dream girl." The more Love meddles, the further Gael drifts from the one girl who can help him mend his heart. Soon Love starts breaking all her own rules—and in order to set Gael's fate back on course, she has to make some tough decisions about what it means to truly care.
7. Red Abbey Chronicles: Maresi by Maria Turtschaninoff
A world where girls live in fear. A safe haven far away. But is it far enough? This is Maresi's story.Maresi came to the Red Abbey when she was thirteen, in the Hunger Winter. Before then, she had only heard rumours of its existence in secret folk tales. In a world where girls aren't allowed to learn or do as they please, an island inhabited solely by women sounded like a fantasy. But now Maresi is here, and she knows it is real. She is safe. Then one day Jai – tangled fair hair, clothes stiff with dirt, scars on her back – arrives on a ship. She has fled to the island to escape terrible danger and unimaginable cruelty. And the men who hurt her will stop at nothing to find her. Now the women and girls of the Red Abbey must use all their powers and ancient knowledge to combat the forces that wish to destroy them. And Maresi, haunted by her own nightmares, must confront her very deepest, darkest fears. A story of friendship and survival, magic and wonder, beauty and terror, Maresi will grip you and hold you spellbound. Maria Turtschaninoff was born in 1977 and has been writing fairy tales since she was five. She is the author of many books about magical worlds. She has been awarded the Swedish YLE Literature Prize and has twice won the Society of Swedish Literature Prize. She has also been nominated for the Astrid Lindgren Memorial Award. Maresi is the first book in the three-part Red Abbey Chronicles, all of which will be published by Pushkin Press. Maresi is being published in eight languages and won the Finlandia Junior Prize.

I also received two tote bags and they are amazing!! It is from penguin teen and it said "We are what you read" and on the back there is a quote from The Young Elites by Marie Lu. PERFECTION. I really love both The Young Elites and its sequel, The Rose Society! I can't wait for the third book to come out…If you still haven't read these books, what are you doing with your life??!!
and last but not the least, here are the bookmarks that I received. Some of it was signed so I'm so happy. Fun Fact: I only have 3 bookmarks because I don't really use it and sometimes I just remember the page that I was on then I'll try to remember it the next day. I know guys, I'm weird.  BUT receiving these bookmarks is just wonderful.
So that's it for today everyone. Hope you guys are having a great day. Thanks for reading this.
FIND ME ON THE INTERNET:
Instagram – @bookishfanboy
Twitter – @bookishfanboy
Goodreads – goodreads.com/bookishfanboy
Tumblr – bookishfanboy.tumblr.com