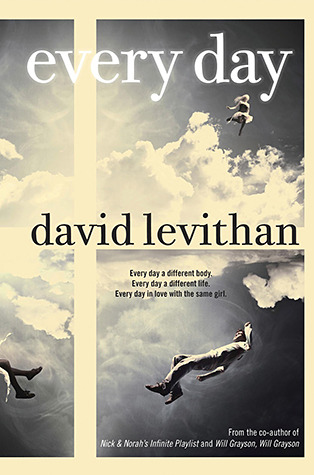 Synopsis from Goodreads:


In his New York Times bestselling novel, David Levithan introduces readers to what Entertainment Weekly calls a "wise, wildly unique" love story about A, a teen who wakes up every morning in a different body, living a different life.

Every day a different body. Every day a different life. Every day in love with the same girl.
There's never any warning about where it will be or who it will be. A has made peace with that, even established guidelines by which to live: Never get too attached. Avoid being noticed. Do not interfere.

It's all fine until the morning that A wakes up in the body of Justin and meets Justin's girlfriend, Rhiannon. From that moment, the rules by which A has been living no longer apply. Because finally A has found someone he wants to be with—day in, day out, day after day.

With his new novel, David Levithan, bestselling co-author of Will Grayson, Will Grayson, and Nick and Norah's Infinite Playlist, has pushed himself to new creative heights. He has written a captivating story that will fascinate readers as they begin to comprehend the complexities of life and love in A's world, as A and Rhiannon seek to discover if you can truly love someone who is destined to change every day.



Genre: Young Adult Contemporary, Fiction

Publication Date: September 10th 2013

Date Read: May 3, 2015

Publisher: Ember

Format: Paperback

Pages: 324




"If there's one thing I've learned, it's this: We all want everything to be okay. We don't even wish so much for fantastic or marvelous or outstanding. We will happily settle for okay, because most of the time, okay is enough." 
So first let us talk about the concept of the story. The waking-up-to-another-body thing is very new to me and I think to the young adult fiction too and it's the reason why I'm so intrigued about this book. After I finished it, I knew the concept of Every Day was cool and heart breaking at the same time. If I were A, the main character, surely I will get crazy because you wake up to a different body and with different family and friends of course.
"I wake up thinking of yesterday. The joy is in remembering; the pain is in knowing it was yesterday."
A, the main character, is very strong and patient. I salute him for being so optimistic and because he is contented of what his life is going to be and he already accepted the bittersweet reality at the very beginning. However, I have a problem with his attitude sometimes because he keep telling to Rhiannon, the one he loves, that their relationship will work which is clearly not possible because of A's situation but at the end of the book he realizes that so it didn't affect my ratings because this book is just, AMAZING. 
Now let us talk about Rhiannon. She is a very good character despite that A is in love with her and can't be in the same body everyday. She supports him because that is the right thing to do, Rhiannon wants A to experience to live a normal life as everyone does and to love…to love her. Rhiannon is also truthful to their complicated relationship which I really like, that it can't work because A will never be in the same body everyday and what if he wakes up in the other side of the world? It is so sad 😦
"Kindness connects to who you are, while niceness connects to how you want to be seen." 
This book is amazing and inspirational! The ending gave me so much feels but I know it's just the right thing. Every Day taught me how everybody is different and we should respect them because we have our own different experiences in this world.
David Levithan did a really great job to impress me because this is the first Levithan book I have ever read. IT IS BRILLIANT. I will read his other books as soon as I can because he is a great writer. For all readers out there, not just young adults, you guys should really read this book because you will learn good things from this book! You will never regret reading it.
Ratings: 5/5 stars